Application of 10G DAC Fiber Optical Cable and Transceivers
2019年6月6日
10G SFP+ cables are available in 10G SFP+DAC cable  and 10G SFP+ AOC cable. Both 10G SFP+  fiber optical cable and 10G SFP+ fiber optical transceivers are common optical components for data center top-of-rack (ToR) cabling for connecting small access switches and servers. But how to choose the right 10G SFP+ cable according to different network deployment requirements?
What is SFP+ DAC/ AOC Cable and Fiber Optical Transceivers?
The 10G SFP+DAC features a passive dual-axis cable assembly and is directly connected to the SFP+ connector for low power, low cost and low latency. It has a maximum transmission distance of 10 meters, so it is often used for short-distance connections between racks and racks: including overhead switches and direct interconnection of servers and storage devices in racks or adjacent racks,  saving Input cost indirectly.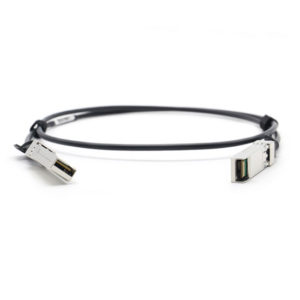 The active optical cable AOC is composed of a multimode optical fiber, an optical transceiver device, a control chip, and a parallel optical module. The optical transceivers at both ends of the active optical cable AOC provide photoelectric conversion and optical transmission functions to increase the transmission speed and transmission distance of the optical cable without compromising compatibility with standard electrical interfaces.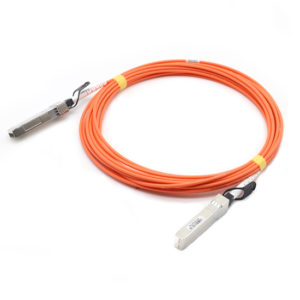 SFP+ Fiber Optical Transceivers
SFP+ fiber optical transceivers is a 10G optical fiber module that belongs to an SFP optical module. It is independent of the communication protocol. It is generally connected to switches, fiber routers, and fiber-optic network cards. It is used in 10G bps Ethernet and 8.5G bps Fibre Channel systems to meet the higher speed requirements of data centers and realize network expansion and conversion in data centers.
The SFP+ optical module line card has high density and small size, and can communicate with other types of 10G modules, providing higher installation density and cost savings for the data center.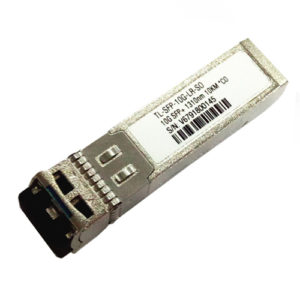 Application
10G SFP+  Cable Connect Solution
The 10G SFP+DAC typically supports a link length of 7m, and has the advantages of low power consumption and low latency, making it an ideal choice for server-to-switch connections, while 10G SFP+ AOC supports link lengths up to 100m. It is a low-cost alternative to optical modules and is often used for connections between switches and switches. The connection between the server and the switch within 7m can select 10G SFP+DAC. Connect two switches, and the link length is 100m or less, you can choose 10G SFP+ AOC.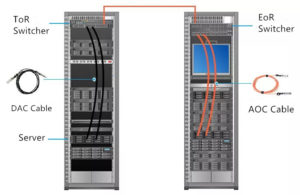 10G SFP+ Fiber Optical Transceivers 
Due to the high requirements for connecting servers or storage devices to switches, high-performance 10G SFP+ optical modules with high reliability and scalability are required. To achieve a server-to-switch connection, a 10G SFP+ optical module can be used with LC-LC single-mode fiber patch cords or LC-LC multimode fiber patch cords.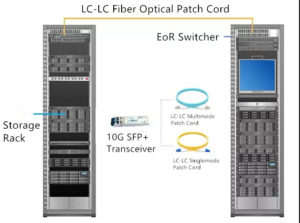 Conclusion
You must understand these two types of connect solution about the SFP+ cable and SFP+ fiber optical transceivers after reading this post. As to the choice of the right 10G SFP+ cable according to different network deployment requirements, TARLUZ provides reliable high-speed cable and optical module solutions, as well as customizable services for the length and color of DAC and AOC cables.