Product Show: Fiber Optical Fusion Splicer
2019年7月5日
The optical fiber fusion splicer is mainly used for the construction and maintenance of optical cables in optical communication. The general working principle is to use a high-voltage arc to melt the two fiber sections while gently advancing with two high-precision motion mechanisms to fuse the two fibers into one to achieve the coupling of fiber mode field.
Fiber Fusion Splicers are Mainly Used in:
Construction, maintenance and emergency repair of optical cable lines for telecom operators, communication engineering companies and public institutions;
Experiment, production and testing of optical devices;
Research;
Teaching research on optical fiber communication majors in universities
Classification of Fiber Optical Fusion Splicer
A common optical fiber fusion splicer generally refers to a single-core optical fiber fusion splicer. In addition, a ribbon optical fiber fusion splicer specifically for welding a ribbon optical fiber.
According to different alignment methods, fiber fusion splicers can be divided into two categories: cladding alignment and core alignment.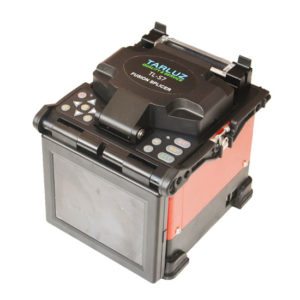 TL-S7 FTTH Fiber Optical Fusion Splicer
TL-7S Optical Fusion Splicer is a cost effective high precision instrument specially designed for FTTH network. The splicer average splicing loss 0.02dB(SM) 0.01dB(MM) 0.04dB(DS) 0.04dB(NZDS), PAS fiber core alignment technology, CMOS image sensor imaging technology, Carrying bag also your work platform. It with compact, durable, flexible features is an ideal tool for fiber optic network installation, testing, maintenance.
Features:
FTTH network, support both Single mode and multimode fiber
PAS alignment to guaranty low splicing loss
8-second fusion splicing, 30-second heat shrinking
X/Y display, or X/Y display simultaneously
5-inch LCD display
3-in-1 Clamp to support single fiber, drop cable, and pigtail
Large capacity internal battery, support 200 splicing
Compact and light weight, only 2.1kg with battery
Conclusion
TL-7S Optical Fusion Splicer are mainly used in fiber optic network installation, FTTH network installation and optoelectronic device manufacturing. And TARLUZ will also supply different types of accessories.